CUSTOMER STORY
RITA bringt's
"For us, a first-class database is very important. One with which we can securely collect and manage all knowledge and always retrieve it immediately. A database like this is a real relief in many respects."
Rita Huber, Founder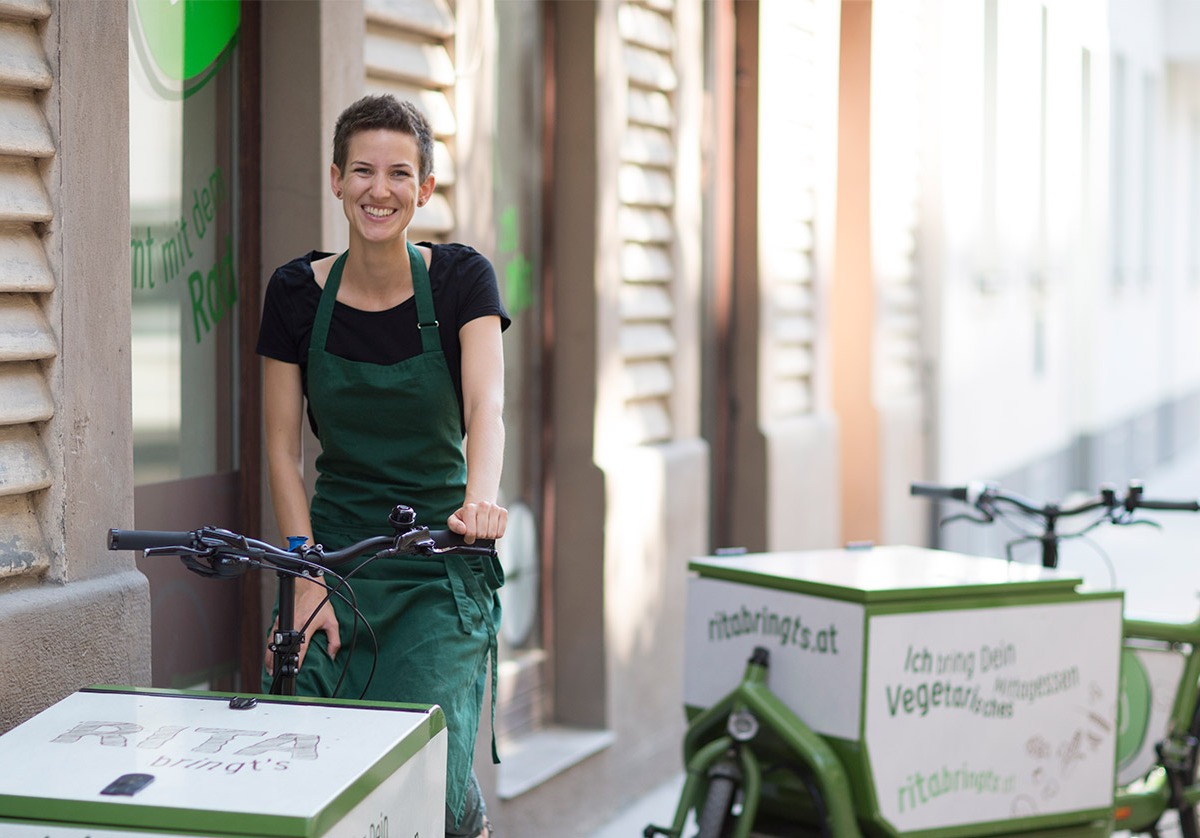 ---

The company
RITA bringt's is one FoodNotifys first customers. As Vienna's first delivery service for vegetarian organic lunches, Rita and her team prepare fresh, healthy meals every day – and deliver them sustainably by bike directly to the office or home.
Further information
We talked to Rita about her daily work – specifically how FoodNotify supports her business with daily work processes, such as cost of goods sold.
RITA bringt's uses
RITA bringt's Accelerates Its In-House Processes with FoodNotify
What motivated you to start "RITA bringt's"?
Four years ago, my brother-in-law and I realized that there was no vegetarian delivery service for organic lunches in Vienna. In addition, we were both aware of the popular ongoing discussion about who should pick up food from which eating place and when. And then you end up with a sandwich from the supermarket. We wanted to change that – we wanted to move towards healthy food at the workplace. And because we felt like doing something new, we said, "Come on, let's just try this together!" So, out of a spontaneous idea, we launched RITA bringt's into the world – within 2 months – as entrepreneurial beginners.
How do you manage to combine quality with delivery service?
Quality and delivery service are not contradictory, the service must of course be top, but even more important is the work in the kitchen itself: constantly developing and improving one's recipes with meticulousness and passion, as any other hospitality company or á la carte restaurant does. That's what we live by! The cooperation with our suppliers has become more and more effective over the last few years. We don't have machines stirring things in a mixing bowl, which is then bottled and labelled. Instead, every dish is prepared, cooked, packaged and made ready for dispatch by human hands. It takes a lot of time and a willingness to learn to maintain and improve the quality of our food and our daily processes. A daily challenge, but it works!
Speaking of which: What other challenges do you have to overcome on a daily basis? Or is there anything particularly frustrating for you?
I wouldn't say frustrating. But challenging, yes, there are a few things. For example, negotiations with suppliers or partners, which are sometimes very nontransparent. And, of course, there's always the issue of personnel: It's really hard to find qualified staff for the kitchen who are also passionate and ambitious – and who not only want to work for us, but also with us.
For us, a first-class database is very important. One with which we can securely collect and manage all knowledge and always retrieve it immediately. A database like this is a real relief in many respects.
You are quite diversified in your business areas. How do you manage all of your data and knowledge?
For us, a first-class database is very important, with which we can securely collect and manage all knowledge and always retrieve it immediately. For maintaining the website, updating the recipe database, creating trial documentation, etc. a database like this is a real relief in many respects. Many other companies still have some catching up to do. Ingredients are still passed on from person to person, or written down. We want to be more advanced. Digitalizing our processes makes sense.
You've been a FoodNotify customer form the very beginning. Why did you choose FoodNotify?
It was just exciting to see that there was someone who was also starting out and who, above all, was also as technology-driven as we are. Someone who is motivated to change something in the industry for the better. That suited us! We did have one specific need: to digitally store our recipes! So we spoke with your team about what both sides wanted to do – and it turned out to be a really good collaboration.
How does FoodNotify support you in your daily work processes?
By working the way we like to do it too: with a very close-to-the-customer lean management. We appreciate that very much. You always try to implement what is important to us. Even if it was not intended or planned that way beforehand. I am the one who writes emails and makes immediate inquiries, which are then either replied to quickly or the task has already been solved. Or, within a short period of time, you have developed and implemented completely different and new solution suggestions.
I simply log in, find the recipe I want to cook – and use the Contribution Margin Calculator to calculate cost of goods sold almost automatically.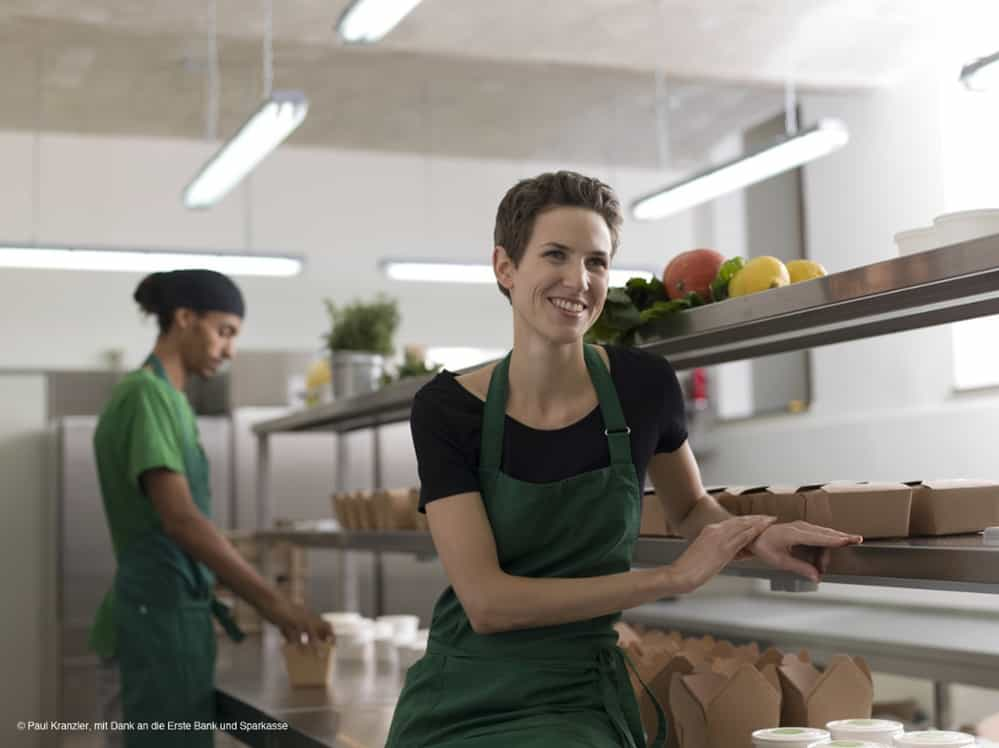 The topic calculation is also particularly important for you as a delivery service. How were you able to develop your processes further or improve them?
Definitely not with Excel Spreadsheets – I've never been able to work with them! (laughs) We also hardly ever use handwritten documents, because I don't always want to have to gather everything together. Instead, we use your new Contribution Margin Calculator, which you have greatly improved. All my recipes with all ingredients, nutritional values, allergens and daily updated prices are already neatly stored in our recipe database. So I just log in, find the recipe I want to cook – and use the Contribution Margin Calculator to calculate my cost of goods sold almost automatically. That way I can see all the costs. And if necessary, I know immediately: Okay, maybe I can't cook the dish as it is, but I have to find a cheaper ingredient. Or maybe it's in season and I have to buy this, or add that. That's a huge advantage – and a nice side gadget.
How was the switch from paper and pen to FoodNotify's digital tools for your employees and colleagues?
There hasn't really been a transition. For us, it has developed quite historically, because at the start of RITA bringt's I was essentially alone. Working as digitally and transparently as possible right from the start, was and is, our motto. For my team, it was just a matter of learning how FoodNotify works. For some, it was easy because they were already digitally inclined. Others had to get used to it a bit – but it's all about the basics of working with PCs and the fundamental switch from analog to digital tools with the move to a new company.
25
RITA bringt's
employees
You are among one of the companies testing our ERP system. How have you handled merchandise management and inventory up to now and how do you want to do it in the future?
This topic is so essential that it gives me goosebumps. It's still quite a hassle sometimes to convince a retailer or supplier to use digital inventory management. At RITA bringt's, we still have to make compromises. But of course this is my big dream: All retailers, suppliers and partners are linked to FoodNotify and RITA bringt's. I can then manage my goods with the click of a button. And, I can see how many main dishes are to be delivered tomorrow, how many packages I need for them, and what my stock level will be at the end of the day. As a caterer, I would like for everything to be connected. All inputs and outputs should be documentable and visible – including every disposable fork, every paper bag and every bottle of apple juice that goes out to a customer event, for example.
We hear you're a movie lover. What's your favorite kitchen and culinary film?
(Laughs out loud). I don't have a favorite movie, but a nice recommendation: The Hundred Foot-Journey – the scene with the omelet!
More customer stories you might like
RESTAURANT
Owner Miguel Bernis talks about the dream of having his own restaurant, the benefits of digitalization in the hospitality industry, and how he gains more time for his guests.
CATERING
Why one of Germany's largest caterers relies on FoodNotify to plan and manage 1000 events per year.
RESTAURANT CHAIN
With over 70 locations, Enchilada Gruppe is one of the largest hospitality companies in Germany and offers numerous culinary concepts. Read here how FoodNotify supports the locations in their daily work.
Ready to write your own success story?
Contact our team now and get to know FoodNotify in a free demo.