ABOUT US
May we introduce ourselves?
Learn why we do what we do, what our goals are, and get a glimpse into the story of our company.
OUR MISSION
More innovation, efficiency and sustainability
Our mission is to build the most powerful and intuitive F&B management platform on the planet. Together, we want to redefine how hospitality businesses work with software while helping companies create a sustainable future.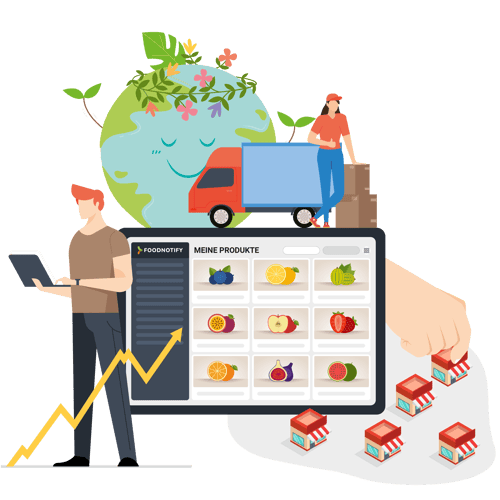 FORWARD TOGETHER
We don't only want to be your software, but also
your digitalization partner
What I really like is that the team at FoodNotify has expertise. They also respond rapidly to our feedback, so we always get a quick answer.
We were looking for a solution that is workflow-oriented and adapts to our processes. With FoodNotify, this was fully given.
OUR STORY
We grow together
Join us for a look at the most important milestones in FoodNotify's story and discover why we want to drive transparency and digitalization in the hospitality industry.

2014
The story of FoodNotify begins. The founders Thomas, Christina, Adnan and Mirza want to draw attention to the lack of food transparency in the hospitality industry.

2014-2015
We develop our Recipes module for the hospitality industry. The labeling of allergens, nutritional values and additives no longer represents a major challenge for hospitality businesses.


2016
Our Procurement module launches that caters to the everyday needs of both restaurateurs and suppliers.

2017
We develop our ERP module, with which F&B managers simplify and accelerate their warehouse management and inventory.

2018
Not only is interest in FoodNotify growing, but so is our team. A community of product development, programming, customer service, sales and marketing grows together. We move to our current office in the second district of Vienna, Austria.

2019-2020
We expand our product range with our Catering and Analytics integrations designed for the specific challenges of the industry.

2021
Conscious handling of food has always been important to us. We increasingly focus on how our solutions support the fight against food waste.


2022
The start of a new era: our logo gets an update. The colors green and orange remain, represented in a new symbol showing a bracket on the one hand and an arrow on the other.

2023
It's time for a change. We move to our new office, a co-working space with plenty of room for creative ideas and opportunities to exchange with other companies.
WE'RE HIRING
Join the revolution of the hospitality industry